1 . Planning
See Conceptual Writing – Interpretation of Others. I decided to carry on with the initial ideas of derelict houses and forests where nature and man are becoming one (well, more nature than anything). From here, I had no idea what to do.
I wanted to continue with my question 'What way is up?', so I know I wanted to work with a long, thin canvas, in order to gain this effect. I would then split it in half and work like so. This led me to the conclusion that I needed to build a new canvas as I could not produce the painting that I wanted on the canvas I originally made.
I also made some initial paintings and colour swatches of what sorts of things that I wanted within the painting. I did the paintings with watercolour as I found these easy to manipulate in the situation to create a coloured wash of the sky and the layered forest. I chose to create the small swabs straight from acrylic paint tubes. I did it this way as it was quick and easy, and also I would be using many colours straight from the tube when painting on the canvas. These included everything from grass green to brilliant red.
There were also several artists that I initially wanted to use. Unfortunately there is not enough literature on them to be able to quote that I used them, especially in my artist statement. These can be found in Painting Inspirations.
I also found initial photos that helped me make my first decisions about the first layout and the way in which I want to paint the canvas. These were all photos found on the internet. These included everything from basic forests in Canada and America, and sheds and huts that are found commonly in back gardens. This simple beginning stage of finding these photos also helped me to chose further artists and also helped with the general layout of the painting itself.
Source: Logspan.com
Source: Eilishscreativespace.wordpress.com
Source: Hikewithyourdog.com
Source: cdn.paper4pc.com
Source: Gettyimages.com
Source: Gettyimages.com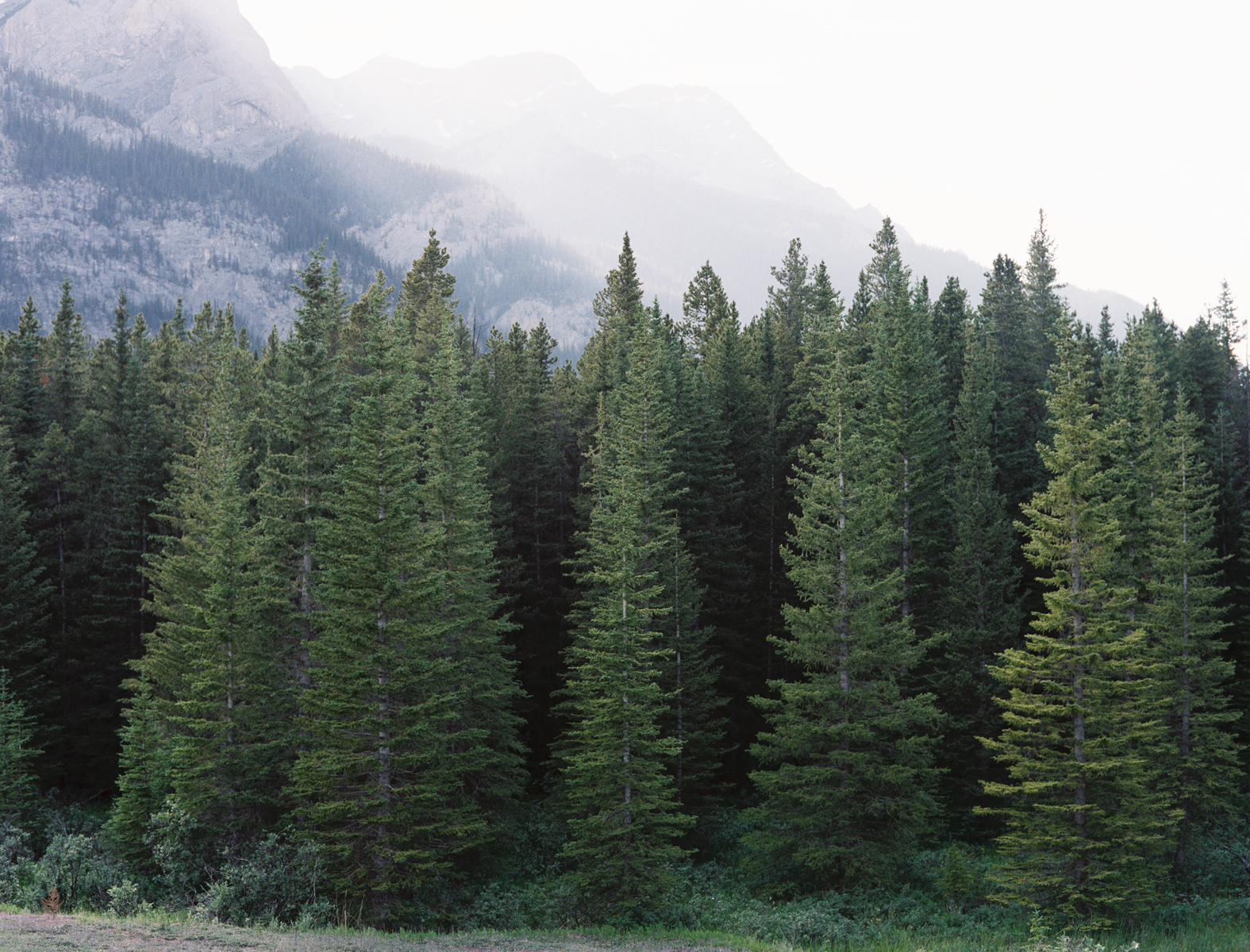 Source: Thetreecenter.com
Source: Cttbusa.org
Source: Fineartamerica.com
2. Making the canvas
This was a 60 x 190 cm canvas that I made. These dimensions were chosen as I felt like they were going to be easy to work with when creating the painting that I had envisioned. It did end up as a bent frame as it was difficult to build flat (the tables were not big enough and I could not find anything to support it properly). I do not mind this, even though when it hangs on the wall it will be slightly skewed on the bottom end.
3. Seminar
Through the use of a seminar with some of my peers, I was able to help develop others ideas and sketches of their paintings, as well as developing my own through the information about new artists, films and books.
To view all inspirations including that of the artists, books and films, see; Painting Inspirations
Through the use of the new inspirations of artists, films and books, I did some research into whether I thought they would be valuable to my inspiration for this painting. Not only did I find them inspiring, but I also played a little game to find other contemporary artists that might further inform my work. This involved searching up the existing artist, for example, Peter Doig, on Google. Once I had found the gallery in which Peter Doig was based, I then looked at the other artists that the gallery also showed. These were sometimes very similar artists, and sometimes very different and unique artists. From here, I found several other artists, who can also be found in the Painting Inspirations post.
4. Artist Statement
To see the progression of the artist statement and the planning I used to produce it, go to; Artist Statement Planning. To see the final artist statement go to; Artist Statement.
I completed my artist statement as I was painting the last few parts onto the canvas. It helped that I was developing both my statement and painting in conjunction with each other as I feel like this has both helped them to strength and help explain each other.
5. Photography of progression
6. The finished piece
I think that I was not completely happy with the overall finish of the piece as it is not what I envisioned, or intended it, to be. This put aside, I also do not wish to paint trees for a very, very long time! I often found it tedious, especially as I was working so close to the canvas. From a distant viewpoint I am certainly happier with the trees and the colours of which I have used for them. It does seem a little like an optical illusion, as to me, everything isn't quite sitting right within the painting. for example, the trees seem like they are over hanging too much and there is not much shadow underneath them, and the hut also seems randomly placed there. But there is also a question that arises in this; is the floating fake to create the image of a rushed painting, or an illusion to create a creepy, mysterious setting and forest? Personally, I believe it is the first one, however the creepy setting is a very cool idea too.
I was not used to oil paints as I often work in acrylic and occasionally water colour. My preferred medium is graphite, which is entirely different to oil paints. This, therefore took a little getting used to, especially when using turpentine to thin the paints down and white spirit to clean the brushes, all instead of just water. It was a good experience though as the paint was thick, and easy to work with when thick – a texture that I wished to used to make the trees more three dimensional and realistic. It was also surprisingly easy to water it down using the turpentine to create the light background of the colourful haze.
If I am honest, I would want to start again. My canvas was wonky, the trees are all very repetitive and everything seems like it is floating. However, I am also very happy with the overall final piece, as this is a new experience for me, from making the frame and the canvas to painting with oil paints and turpentine. Lastly, I would suggest having a very aired room when using turpentine as for the sky, I was pretty much painting with it, and it can go to your head very quickly! I have to say that I cannot wait to try painting with oils again!